Conservatory Styles
Which Style Conservatory Should I Choose?
Deciding which style conservatory to choose depends on a number of factors, including the size of your property, available space and of course, budget.
We select the highest quality products for our conservatories, all of which are beautifully designed and excel in terms of thermal properties and energy efficiency. This is essential in keeping your fuel bills low and helping the environment.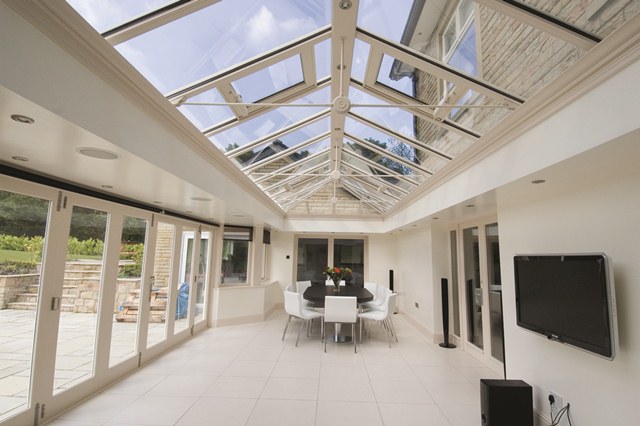 It goes without saying every project is completed to the highest standards by our team of master craftsmen, so no matter which style you choose, we know you will be delighted with the end result.
Below is a guide to common conservatory styles to help you choose a style which suits you. If you have any questions or need advice on any aspect of a conservatory, we are always happy to help, just give us a call.
T-Shape Style Conservatory

The T-Shape is suited to larger properties.

This design is distinguished by a central projection that can either be Victorian, Gable or Georgian in style.

The T-Shape offers a large and versatile floor space and is an impressive addition to any home.
Victorian Style Conservatory

The Victorian is a popular style distinguished by a faceted front.

The number of facets can vary, but the more facets there are, the more rounded the appearance of the conservatory.

Georgian Style Conservatory

The Georgian flat-fronted style with a square or rectangular internal shape that makes excellent use of the floor space.

Each side of the roof slopes back to the centre which results in a contemporary style that suits most properties.

Lean To Style Conservatory

Ideal for properties with little room under the eaves or for homeowners that prefer a clean simple look.

The pitch of a roof can be varied, making this a versatile and ever popular style.

Latern Style Conservatory

The original conservatory style, a Lantern conservatory displays both drama and grandeur.

Distinguished by a two tiered feature roof, the height within a lantern conservatory adds an extra dimension to the feeling of light and space.

Typically chosen for older properties due to the traditional look

Gable End Conservatory

A gable fronted conservatory adds a sense of grandeur to any home.

Featuring the same rectangular floor space as a Georgian, a Gable offers excellent use of internal space.

The front panel of the roof remains upright as opposed to sloping back to the centre which creates a sense of greater height within the conservatory.


P-Shaped Style Conservatory

The ideal style for a larger conservatory for larger properties.

With its flexible approach the 'P-Shape' can be combined with a lean-to and a Victorian style to create a versatile solution that can be used as two different living areas.

Large Span Conservatory

Conservatories that are extremely large and require extra support to take the weight of the roof and provide additional stability are known as large span or portal framed conservatories.

The uses for portal roofs are endless - from magnificent swimming pool enclosures to large commercial extensions; anything is possible due to the flexibility and advanced engineering of the large span system.
The Peter Trotter Difference...
We pride ourselves on offering excellent customer services and benefits.